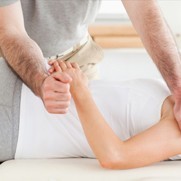 Our office is well equipped to examine and treat patients through the integration of a variety of techniques and modalities. Our commitment to continued education allows us to offer top of the line services that are up to date with current evidence and research.


Services Include:

• Manual Therapy
• Therapeutic Exercise Prescription
• Joint Pain Reduction
• Ergonomics/Body Mechanics Training
• Post Surgical Rehabilitation
• Sport Conditioning/Reconditioning
• Gait, Transfer, and Functional Training
• Balance Improvement
• Dry Needling

We can assist you in the treatment/management of:

• Arthritis
• Tendonitis
• Muscular Pain
• Postural Dysfunction
• Sports-related Injuries
• Work-related Injuries
• Post-surgical Rehabilitation
• Neck Pain
• Back Pain
• Upper Extremity Pain
• Lower Extremity Pain
• Balance Dysfunction

…AND MUCH MORE!



Click to Download the pdf