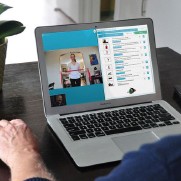 We hope you're all staying healthy and happy during these trying times! While we are still unable to see many patients in-office, we are beginning to offer Telemedicine appointments* in order to provide care for Juneau's musculoskeletal complaints!

To Participate you will need to fill out the following 2 Forms:

1) Chiropractic Intake

2) Informed Consent for Telemedicine Services

During these video calls, we are able to:

• Take a general history of your health complaint,

• Perform a modified physical exam,

• Go over workplace ergonomics (important for those of you who are newly working from home!), and

• Prescribe basic exercises, stretches, and activities that may help you maintain your day-to-day routine.

*Due to restrictions, these Telemedicine visits are currently only available for established patients at Arctic Chiropractic.

For these visits, we will be using Skype for communication. Skype can be used via computer (webcam needed) or smartphone. To use Skype, find the FAQ and download links here:

• Download - https://www.skype.com/en/get-skype/

• FAQ - https://support.skype.com/en/faq/fa34713/faq-and-known-issues-with-skype

If you wish to partake in the Telemedicine option, please give us a call at (907) 790-3371 to set up an appointment time!

As we all adapt to this current way of life, Arctic Chiropractic has continued to remain up to date with the CDC and WHOs recommendations for preventing the spread of COVID-19. To accommodate social distancing requirements and to safely serve the population of Juneau, our in-clinic appointments continue to remain restricted to urgent/emergent cases.





Click to Download the pdf